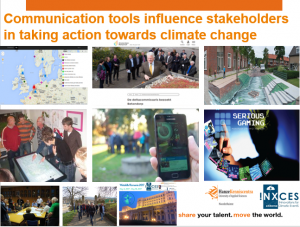 Wetskills uses a new way of authentic learning and international networking for students and young professionals with a passion for water. The Challenges take place worldwide, usually during international water related events. In mixed teams, the internationals participants work on are real life and transdisciplinary cases from companies and (governmental) organisations. The main task is to think out-of-box and develop realistic concepts.
Between 4 and 18th May 2017 Hanze University of Applied Sciences will be case owner with all INXCES partners and Technical University of Civil Engineering of Bucharest (UTCB-CCIAS) in particular. The extreme heatstress map of Bucharest will be presented and validated by the means of innovating measurements in the urban area.
INXCES and The Wetskills Foundation invites Bachelor (final stage), Master, PhD students and recent graduates to apply for the Wetskills Water Challenge programme in Bucharest – Romania. This third Wetskills edition in Romania will be hosted by Politehnica University of Bucharest, partnered by Technical University for Civil Engineering in Bucharest, Romanian Water Association and Wetskills Foundation. The final presentations and awarding will be organized during the ExpoApa, the largest Water Technology Conference and Exhibition of Eastern Europe.
More info:Â http://wetskills.com/event/wetskills-romania-2017/